This weekend is going to be a busy one in and around Asheville! With so many great events happening; it will be a challenge to pick what you want to do the most. Don't worry though, we have compiled a great list to help you make the best decision!
Friday, Aug. 3rd & Saturday, Aug. 4th
LEAF DOWNTOWN ASHEVILLE
We at Town and Mountain Realty are so excited to sponsor this great event!
Get ready to Get Down at the 4th Annual LEAF Downtown AVL, taking place August 3-4, 2018 in the heart of Downtown Asheville at Pack Square Park. LEAF Downtown AVL showcases dynamic musical talent, immersive cultural arts performances, and local handcraft & culinary artists. Visit theLEAF.org/downtown for more info on this inclusive, family-friendly, FREE event!
Friday, Aug. 3rd
Nahko and Medicine for the People at The Meadow - Highland Brewing
We at Town and Mountain Realty are thrilled to be a sponsor for The Orange Peel & Highland Brewing Company's Summer Concert Series!
Orange Peel Events & AC Entertainment presents
Nahko and Medicine for the People
plus Raye Zaragoza
OUTDOOR SHOW at The Meadow at Highland Brewing Company
Show: 7 pm
Doors : 5:30pm
$25 - $30
All Ages
RAIN OR SHINE

Read More + Tickets & Info
Saturday, Aug. 4th
Beneficial Pollinators; Beyond the Bee
Many insects other than the bee contribute to pollination and also provide other needed benefits to the ecosystem. Explore ants, butterflies, moths, beetles, flies, wasps, and other beneficial insects and discover how important they are to your garden and the environment. Learn to tell the difference between bees, wasps, and flies, make insect antennae to wear home, and create your own caterpillar that turns into a butterfly before your eyes!
2 PM - 4 PM
Asheville Museum of Science (43 Patton Ave., Asheville, North Carolina 28801)
Event Included with Admission
Adult: $7 | Children: $6 | Military: $6 | Senior: $6 | Student: $6 | 2 & Under FREE
Saturday, August 4th & Sunday, August 5th
46th Annual Village Art & Craft Fair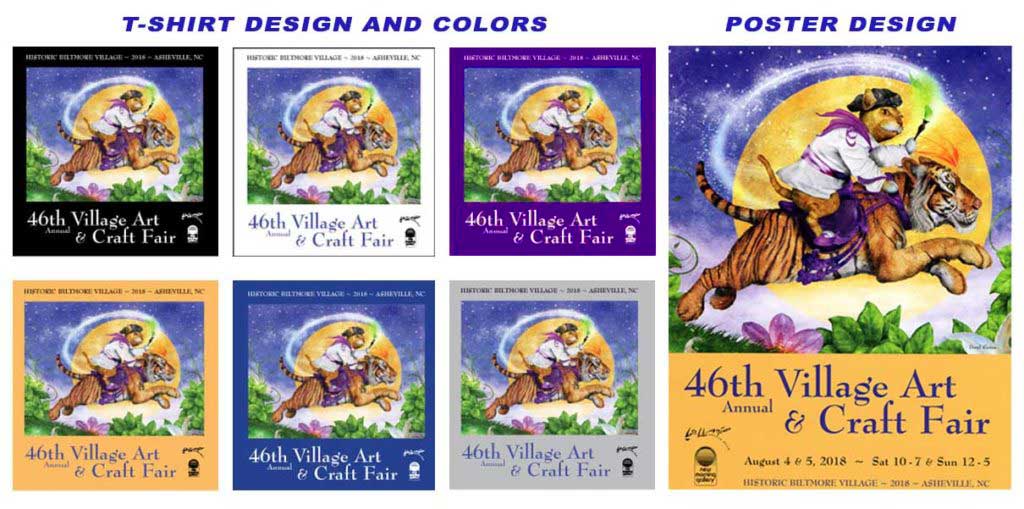 This year's Art & Craft Fair in Biltmore Village is sure to inspire and delight! With over 100 vendors in clay, wood, metal, fine art and beyond, our craft fair draws visitors from near and far.
Join us at the Cathedral of All Souls
Saturday: 10:00 am to 7:00 pm
Sunday: Noon to 5:00 pm
Saturday, Aug. 4th
Bikes and Beers New Belgium 2018
9 AM - 2:30 PM New Belgium Brewing (21 Craven Street, Asheville, North Carolina 28806)
Bikes and Beers NEW BELGIUM features a 15-mile and 30-mile ride departing from New Belgium Brewery and traveling through the beautiful region of Asheville, NC. Both rides will feature a half-way rest stop with refreshments.

Upon return to New Belgium, riders will receive an official pint glass (and koozie!) with 2 FREE BEERS of your choice. At New Belgium, there will be LIVE MUSIC, local food trucks and lots of outdoor games to play! A Celebration of Cycling and Craft Beer!

A portion of proceeds from the event will go to Asheville on Bikes to help improve the cycling conditions in Asheville, NC. Have fun, and give back!

Routes: https://ridewithgps.com/events/60519-bikes-and-beers-asheville-2018
Register - https://tinyurl.com/BBNB2018

Saturday, Aug. 4th & Sunday, Aug. 5th
NC Mineral and Gem Festival
(Location: 12121 Hwy 226 S, Spruce Pine, NC 28777)
Ticket Prices & Hours
Friday - Saturday10am - 6pm (General Admission $3)
Sunday 12:30pm - 5pm - (Mitchell County Day $1.00)
Kids 10 & under FREE!
For over 50 years the NC Mineral and Gem Festival has welcomed thousands of visitors each year to Spruce Pine, North Carolina. Widely known as the most important mining district in the world, Spruce Pine has a strong mining history and heritage. The Festival welcomes dealers from around the country selling fine jewelry, gemstones, minerals, fossils and more! During the four day Festival, attendees enjoy shopping, mine tours, lectures, book signings as well as enjoying the beautiful attractions and activities offered in the Blue Ridge Mountains.
Free Concert - Friday, August 5th 6 PM Downtown Spruce Pine
Grassy Creek Gem Show at Parkway Fire Department, Hwy 226 South just a couple of miles from the NC Gem Fest.
Friday, Aug. 3rd & Saturday, Aug. 4th
( *Cancelled Due to Rain* )
Summer Lights at the North Carolina Arboretum
North Carolina Arboretum, Asheville
8 p.m. - 10 p.m.
After sunset, the North Carolina Arboretum presents a projected light show synchronized to a live music performance of Blue Ridge Orchestra's Symphonic Winds. New this year, the Arboretum will offer reserved premium seating for $30 (includes a free drink). Lawn seating is $18 for adults and $12 for children. Proceeds from this summer concert series will help support the Arboretum's programs, exhibits and facilities year-round.
Check out this video from just last month filmed by our own Susan Young!
Saturday, August 4th
14th Annual Tomato Festival
WHERE: Henderson County Tailgate Market, 100 N. King St., Hendersonville.
WHEN: 8 a.m.-noon
The Henderson County Tailgate Market is ready to once again celebrate the beloved tomato for the 14th annual Tomato Festival. North Carolina ranks seventh nationally in the production of tomatoes destined for fresh market. Every year nearly 3,000 acres of this tasty favorite are grown across the Tar Heel state with many of them harvested in Henderson County.
Saturday, August 4th vendors will offer a variety of Henderson County fresh tomatoes and more. Come grab a free tomato sandwich, listen to some tunes and shop at our various booths for all kinds of North Carolina goodness including fresh produce, eggs, chicken, flowers, plantings, honey, baked goods, natural beauty products and more.
The Henderson County Tailgate Market opened in 1979 featuring fresh county grown produce. It is one of the oldest and successful open air markets in Western North Carolina.