The 2nd Annual Leaf Downtown is this weekend!
"Join us at LEAF Downtown AVL 2016 to celebrate music, art and culture from July 30 & 31, presenting a powerful "Soultown" theme bringing the very best soul, funk, R&B and world music talent to one and ALL – for FREE! Get ready for a fully immersive experience, welcoming families and all walks of life to gather as one community in our beautiful mountain city. LEAF Downtown AVL will feature a wealth of community partner programming including the return of our Voices of Asheville tent, dozens of family adventures activities, three stages featuring local, regional & national talent, 80+ local culinary and craft arts vendors curated in part by Asheville Grown, roaming performers galore, a one-of-a-kind VIP experience and our second annual LEAF Art Dash 5K. LEAF Downtown AVL first emerged onto the Asheville scene August 2015 as an expansion of the LEAF Community Arts' mission to connect cultures and create community through music and arts. Last year, LEAF welcomed over 15,000 attendees in what we consider to be a turning point in the evolution of our organization and a powerful bridge of inclusion for our community. This summer LEAF Downtown AVL furthers its vision to celebrate creativity, diversity and families in the heart of Downtown Asheville with a Soultown experience unlike any other!" – Ehren Cruz, Performing Arts Director
Check out last year's event details and photos below, it should be even more fun this year!
The first Downtown Asheville LEAF was amazing! Here are some photos from all the festivites that took place on Saturday August 1st, 2015!
Gorgeous ice sculpture helping keep LEAF cool! Created by Materpiece Ice Sculptures right here in Asheville.
Still beautiful and useful even after it melted enough to fall over.
Spectacular booth set up and amazing merchandise at Intergalactic Hobo's booth.
Great booth set up by Seven Feather Tribe, really cool masks!
Incredible booth setup by Bella & Oliver Soap Company - here is a quote from the owner from the Asheville Citizen-Times Article on LEAF.
"Stephanie Zara, owner of Bella & Oliver Soap Company, one of about 90 vendors at the festival, noticed the strong Asheville vibe.
"I feel like it's been a coming together for the community," she said. "It's been a great outcome for local people."
It was also a great outcome for the vendors. Zara reported $800 worth of soap sales on Saturday, a new record for the cottage industry."
Gorgeous jewelry was everywhere!
Amazing artwork was at every turn as well!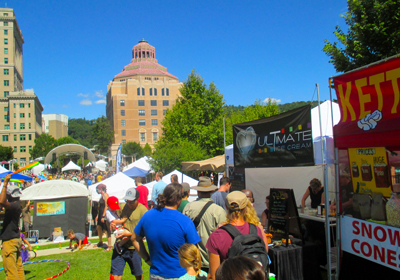 Ultimate Ice Cream had quite the line on this hot day! It was well worth the wait though!
Spuce Street Market was in a great location too, right next to all the LEAF festivites! Firefly Glass had some stunning pieces, recycled from beach glass! (I bought the one pictured in this photo, it glows in the dark too!)
It was such a great time, I stayed most of the day and then came back again in the evening for the big event!
The fire dancers were awe-inspiring! The great performance was by Unifire Theatre - they "warmed" up the crowd for Bootsy Collins!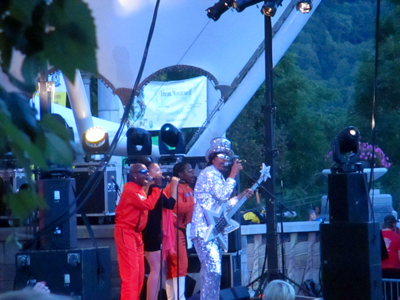 Bootsy Collins was incredible - awesome show to end the night!
The crowd loved it, and it was such a great turn out!
The 2nd annual Downtown Leaf festival starts July 30th - 31st, 2016! Check out the video with more details below:
Read More at http://www.theleaf.org/downtown/