From: www.ashevilleherbfestival.com
People, plants, and products

Every spring, more than 35,000 residents and visitors come to the Asheville Herb Festival to find the nation's best variety and selection of herbs, herb plants, and herb products, ranging from herbal salves, balms, lotions, and ointments to herbal soaps, shampoos, and medicines. You can buy how-to books on cooking with herbs, herbal healing, and herb gardening, and even take a break to enjoy a fresh-cooked lunch and herbal beverage. The 2016 festival takes place Friday, April 29, Saturday, April 30, and Sunday, May 1, 2016.
Learning to love herbs

There's no shortage of opportunities to get an herb education at the festival. Most vendors have specific areas of expertise, such as growing herbs from seed, turning herbs into medicines and other products, or creative cooking with herbs. You can learn about cultivating perennial plants and landscaping your garden – even a container garden – with herbs. There's also an information booth operated by local Master Gardeners certified by the Buncombe County Extension Service [http://buncombe.ces.ncsu.edu/], who are always willing to answer questions about planting, growing, and caring for herbs.
Western North Carolina is a southeastern mecca for high-quality, often organically grown herbs, vegetables, and other produce. Conservation easements help farmers preserve existing farms and establish new ones, and many farms are dedicated to organic agriculture practices such as producing heirloom vegetables and range-fed livestock. Among the area's many growers of herbs and other traditional plants, the Asheville Herb Festival has become an annual opportunity for old and new friends to show off their latest plants and products and share their knowledge. "The herb festival is sort of like a family reunion," remarked Rick Morgan, who founded the festival 27 years ago. "When we get together in the spring, everyone has news to share. It's a very friendly atmosphere."
Check out some photos from the festival last year below!
The 26th Annual Herb Festival was great! There was a fantastic turnout and so many great local vendors! So many beautiful plants and herbs, I was not even sure where to begin. I didn't even explore the entire festival and I still was able to see so much! Here is just a glimpse of what the Asheville Herb Festival had to offer on Saturday May 2nd, 2015!
Some gorgeous Japanese Maple trees attracted a lot of attention and you can see why! Beautiful trees!
There were so many great finds, it was hard to decide what to buy first. It was a brilliant idea to bring a push/pull cart for purchases while you are walking through all of the choices. Otherwise you have to hold yourself back from buying until you are ready to head to your vehicle. Unless you want to lug around your purchases while still looking - which is not very convenient.
This was my first and last stop. I could not resist the carnivorous plants! They are so colorful and and just draw you right in. Check out the incredible colors! I waited until I had the chance to look at everything and then came back to these because I knew I had to buy a few different types from this booth. I also wanted to be very careful with these because they seem so fragile. This couple even had floating water plants - water hyacinths and floating water lettuce.
Another great find were these beautiful dried plants in really creative holders. There were all kinds of beautiful garden decorations and artwork everywhere, so not just plants and herbs at the Herb Festival.
These are the first candles I have seen that double as lotion. Pretty interesting idea, I tried it and it did not seem like candle wax it really was just like lotion. The fragance was great too! I didn't want to get my explanation wrong here so this is a small description from their website:
"Element Tree Essentials lotion candles are made with cosmetic grade soy, grapeseed oil, coconut oil, Shea butter, almond oil, vitamin E and fragrances that are infused with essential oils."
Red Moon Herbs had so many great things to offer. I love seeing local favorites at such popular events like this one. I was drawn in by all the wonderful scents and a strange looking plant caught my eye. I like the "Dr. Suess Looking" plants, the weirder the better! I asked what this one was called and I was told it is a red caterpillar plant. It was a very suitable name, I think you will see why by the photo.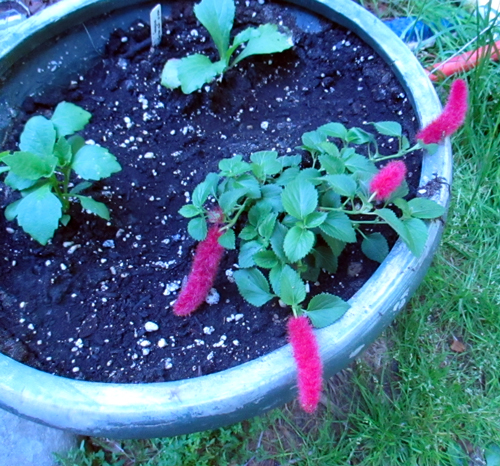 There were also some great books available like the North Carolina Herb Association's: Cooking with Nature & A Guide to the Edible and Medicinal Plants of the Mountains to Sea Trail. Great place to promote these types of books! The author of this book describes the Herb Festival very well here: "Not only will there be starts and seeds of just about every herb you could desire from the common culinary herbs to practical medicinal plants to simply intoxicating aromatic lovelies, but you can also count on prepared herbal products such herbal soaps, oils, lotions, and elixirs." That was such a true statement, there was so much to offer. I will be there next year again, no doubt about it.
Here is a gorgoeus Foxglove plant and an adorable puppy in the background.
Another foxglove with some great garden hangers in the background. I love the raccoon one, it looks so happy!
Amazing handcrafted baskets and planters.
One of the booths I found had these beautiful wisteria plants! I would have bought one, but I was afraid it wouldn't fit in my vehicle and it would be crushed before I could get it home. Noted to myself - bigger vehicle next year.
This lavender smelled so good, it was hard to leave. I was excited to get home and start planting though!
By: An Asheville Native