The first Downtown Asheville LEAF was amazing! Here are some photos from all the festivites that took place on Saturday August 1st, 2015!
Gorgeous ice sculpture helping keep LEAF cool! Created by Materpiece Ice Sculptures right here in Asheville.
Still beautiful and useful even after it melted enough to fall over.
Spectacular booth set up and amazing merchandise at Intergalactic Hobo's booth.
Great booth set up by Seven Feather Tribe, really cool masks!
Incredible booth setup by Bella & Oliver Soap Company - here is a quote from the owner from the Asheville Citizen-Times Article on LEAF.
"Stephanie Zara, owner of Bella & Oliver Soap Company, one of about 90 vendors at the festival, noticed the strong Asheville vibe.
"I feel like it's been a coming together for the community," she said. "It's been a great outcome for local people."
It was also a great outcome for the vendors. Zara reported $800 worth of soap sales on Saturday, a new record for the cottage industry."
Gorgeous jewelry was everywhere!
Amazing artwork was at every turn as well!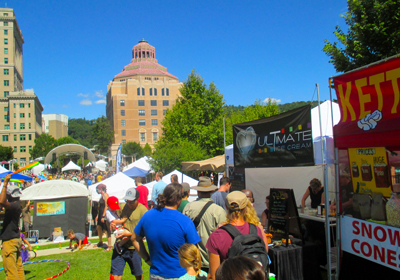 Ultimate Ice Cream had quite the line on this hot day! It was well worth the wait though!
Spuce Street Market was in a great location too, right next to all the LEAF festivites! Firefly Glass had some stunning pieces, recycled from beach glass! (I bought the one pictured in this photo, it glows in the dark too!)
It was such a great time, I stayed most of the day and then came back again in the evening for the big event!
The fire dancers were awe-inspiring! The great performance was by Unifire Theatre - they "warmed" up the crowd for Bootsy Collins!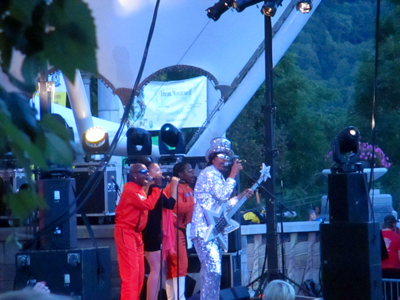 Bootsy Collins was incredible - awesome show to end the night!
The crowd loved it, and it was such a great turn out!
Can't wait for the next one!
 Photos & Article By:  Shelley Hipps Marketing Manager Town and Mountian Realty