If you're looking for some ways to make your home stand out and get sold, here are some simple ideas you can try.
Inside the Home:
Paint your walls a neutral color. You might like bright and bold colors, but potential buyers might not. Paint the walls a light, neutral color that will allow anyone viewing your home to picture themselves in it.
Clear out clutter. Buyers don't want to see closets that are overflowing, garages that can't house a car and kitchen counters littered with spices and appliances. Clean things up before putting your house on the market for better success.
Get rid of big furniture. Overly large furniture can make a room seem small and crowded- the opposite of what you want buyers to feel. Sell or store it to make more room.
Fix any broken items. Whether it's a busted doorbell or a leaky faucet, make sure your home is in good repair so buyers won't have any hesitations.
Use what you've got. You likely don't have the time or money to mount a full-on renovation if you're trying to sell your home, so use paint, simple fixes and things you already have to make your home look great.
Stage your rooms. You don't have to be a professional to take some steps to stage your home. Clean up, change a few items of decor and rearrange your rooms to give things a clean, streamlined appeal.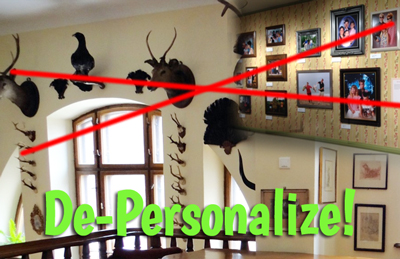 Take down some personal items. While you don't have to make your home look like a showroom, removing personal items like photos, trophies and memorabilia can help buyers better picture themselves in the space. Remember to remove your family pictures hung in the front hall which claim the house as yours. Remove religious items, hunting trophies, naked portraits, and the overstocked bar on display, any of which the buyer may be very uncomfortable with.
Don't take on big renovations. When you've put your home on the market isn't the best time to undertake major projects. Not only is it expensive, it makes your home difficult to show, so focus on small fixes instead and let buyers handle the renovations if needed.
Imagine you're the buyer. Try taking a look at your home from an objective point of view. What would you change or fix up? Use this information to help spruce up your space.
Make your home stand out. If you live in a neighborhood with several homes for sale, you'll need to find a way to make your home stand out. Highlight the best aspects of your home and make sure buyers see what it really has to offer.
Make sure rooms have an obvious use. You might use your dining room as an office, playroom or storage space, but potential buyers might be put off by that. Set up rooms for their intended purpose instead and move your stuff to another space for the time being.
Minimize the pet effect. Not all home buyers are big animal lovers, so make your home friendly to them as well by cleaning up toys, pet food and supplies before your home is shown.
Make the space easy to walk through. Remove any furniture, clutter or boxes that might be blocking or impeding buyers from walking through the space freely.
Outside the Home:
Pay attention to curb appeal. First impressions can go a long way, so make sure your home makes a good one. Step out to the curb to see just how your home holds up and what you can do to help it.
Mow the grass. A well-trimmed yard will make your home look nice and well taken care of, so keep your grass in check. Mow it regularly yourself or hire a service to do it for you.
Plant some flowers. Flowers are a pretty, inexpensive way to add some color and life to your home. They're simple to plant and buyers will love them.
Power wash your home and decks. Sometimes all decks, porches and siding need to look clean and new is a good, hard scrubbing.
Get rid of weeds and any outdoor clutter. It might not be fun, but it's essential to keep flowerbeds and outdoor spaces just as clear of clutter as indoor ones.
Give the front door a fresh coat of paint. Choose a nice color to paint your door to help it look clean, nice and kept-up.
Get a nice welcome mat. It not only helps pull together your outdoor space but will introduce buyers to your home on the right foot.
Repair or replace your mailbox. If your mailbox is weather-beaten and tired-looking, repair, paint or replace it.
Make sure the house number is nicely displayed. Not only is it a safety issue, it makes your home look charming and nice to boot.
Clean out gutters. You don't want water overflowing in places if buyers see your home on a rainy day. Get up on your roof and clean out your gutters ahead of time.
Stage outdoor spaces. Staging isn't just for indoor spaces. Make your deck and outdoor entertaining areas as appealing as possible with plants, paint and great design.
Clean and maintain any outdoor furniture, pools or entertainment spaces. Buyers are going to look at your outdoor spaces critically as well, so make sure everything you have out there is in good repair and as close to move-in condition as possible.
Clear any plants blocking windows. Big bushes and trees that are blocking windows should be trimmed back or removed. Not only do they make the house look bad from the outside, but they block light to the inside as well.
Business:
While you want to work on your home itself, being smart about the business end of real estate can be a big element in your success when it comes to selling your home. Learn more with these tips.
Don't volunteer information to buyers. You never know what answer they're expecting to hear and you could do more harm than good. Let your realtor handle the situation.
Choose a great real estate agent. Finding a real estate agent who will work with your interests is essential. Shop around or use recommendations from friends.
Go outside when buyers are touring your home. It can make buyers nervous to have the sellers in the home when they are touring it, so step out when your home is going to be shown.
Compare prices with other homes in the area. You want to make sure you're not charging too much or too little for your home. Your real estate agent can help you come up with a good figure.
Figure out why buyers aren't choosing your home. If your home has been on the market for a while, contact buyers and agents to see why they chose another and not yours. There may be something missing or detracting from your home that you're not aware of.
Have a for-sale sign in the yard. Many potential home buyers see homes they're interested in simply by driving by. You'll increase your chances of attracting their attention by displaying a for sale sign.
Advertise on the web. There are numerous websites out there where you can advertise your home as being for sale. Take advantage of them and do all the self-marketing your can.
Take good photos of your home. Whether you're putting an ad in a paper or online, make sure the photos you take of your home are well-done. Blurry or dark photos aren't going to sell anything.
Don't overprice. It can be tempting to want to get as much as possible out of your home, but in a market like this one, competitiveness is key.
Ask for advice. (Take the advice given after asking, do not argue with good advice!) If you're struggling with selling your home, look to friends and real estate professionals for advice on how to tackle any issues that come up.
Do your research. Don't settle on a real estate agent, home price or anything else without doing a little groundwork first. The more you know, the better off you'll be.
Look at the bright side. A crowded market doesn't have to be a bad thing if you look at it from a different perspective. For instance, if there are several other homes for sale on your street, you may get buyers looking at your home who wouldn't have otherwise stopped in.
Don't severely restrict showing hours. While it can be hard to balance, work, life and selling your home, make sure to be fairly flexible when it comes to showing your home. You don't want to turn away any buyers who want to see the space.
Easy Improvements
These ideas will have your home looking its best in no time.
Consider new handles. New handles on old cabinets can provide a cheap and easy update.
Replace light bulbs. This is one of the simplest ways to fix up your home, but it will make it seem that much more well-kept and maintained.
Make cosmetic updates. Filling in holes, fixing small things and cleaning up stains, spills and scuffs are all projects that can be completed in an afternoon but that will make you home look leaps and bounds better.
Re-grout tiles. Re-grouting tiles is a fairly easy task and can make a tired, dirty bathroom look brand new.
Strip old wallpaper. If you've got dingy, peeling wallpaper in your home, take it down. Most buyers aren't looking for wallpaper these days and would prefer to have the work taken care of ahead of time.
Consider a new toilet seat. If your bathroom is older, a new toilet seat can make things look nice and new for only a few bucks.
Refinish a stained tub. Old, stained tubs can get new life when you call in a professional refinisher to paint them.
Get a new shower curtain. Shower curtains are cheap, so replace any old curtains in your home with nice, fresh new ones.
Replace leaky faucets. Got a leaky faucet in your home? Buyers are sure to notice, so get the problem fixed or buy a new faucet.
Fix leaks, creaks and holes. With a little WD-40, spackle and elbow grease you can reduce the ambient noises in your home.
Have any water leakage problems repaired. Few things will turn off buyers faster than signs of water damage. If you've got a leaky roof or basement, get it fixed, stat. You'll also want to repair any interior damage it has done as well.
Consider new light fixtures. Outdated or broken light fixtures aren't going to charm buyers, so invest in new ones to make things look neat and nice.
Staging
Staging can go a long way towards making your home look great and getting buyers to go for it. Learn the ins and outs from the ideas below.
Update furniture. Outdated furniture can make your home seem outdated as well. Get a few pieces of more modern, updated furniture to put in your space instead.
Create warm and inviting spaces. Your home should be a place that makes buyers feel at home there as well. Use warm colors, cozy setups and accessible styles to make it appealing to the widest range of buyers.
Go for minimal. Less can be more when it comes to selling your home. Work at striking a balance between your home feeling empty and too full of your personal items.
Pay attention to flow. The flow of a room can be a big deal with buyers. If you have a room that is a pass way between two spaces, make sure there's no furniture in the way making it hard to navigate. Feng Shui might help. Feng Shui is the process of rearranging the energy flow in spaces to enhance well-being and happiness. According to its theory, all spaces and objects have different energies that impact each other in various ways. Some items have positive energy while others have negative energy. Feng Shui staging experts balance these energies to create an ambience that lines up with a buyer's dreams and wishes.
Design for spaciousness. You want your home to look as big as possible to buyers, so do what you can to make spaces look big and bright. That means small, light furniture and brighter wall colors.
If you don't have good furniture, rent some. There are many places where you can rent a nice couch or a dining table for a few months while you are selling your home. It can be cheaper than buying and you won't have to worry about the pieces when your home is sold.
Focus on the main rooms. These are the rooms that buyers will be most concerned about, so make sure spaces like the kitchen, living room and master bedroom look the best.
Be creative. There are numerous ways to make your home look appealing to buyers, so be creative. You may find a theme, color scheme or layout that is great when you're open to new ideas.
Use what you have. You may not need to go out and buy new things to furnish your home. Use things you already have around the house and revamp them to make them work in your space.