We would like to thank all of our Wonderful Gold Level Sponsors for their support for our 3rd Annual Home for the Holidays FUNdraiser which was held in December of last year (2014)! We were able to raise $20,000 for the homeless and those in need in Asheville and WNC! We would like to tell you a little bit about these amazing Sponsors below!
Whether you are a homebuyer or a professional Real Estate Agent, the last thing you need at your closing is a glitch. Diane Bauknight, State Farm Agent, and her experienced, professional, and licensed agents are here to make sure you have the proof of insurance in order and delivered to your attorney. We serve all of North Carolina and your insurance purchase can be completed entirely over the phone. We have enjoyed a long-term relationship with the great Real Estate Agents at Town and Mountain Realty for many years, and you can count on us.
Give us a call, and find out how dedicated we are to make sure your closing is successful!
Diane Bauknight, State Farm Insurance, 5 Long Shoals Rd, Arden, NC 28704 (828) 687-1130 www.dianebauknight.com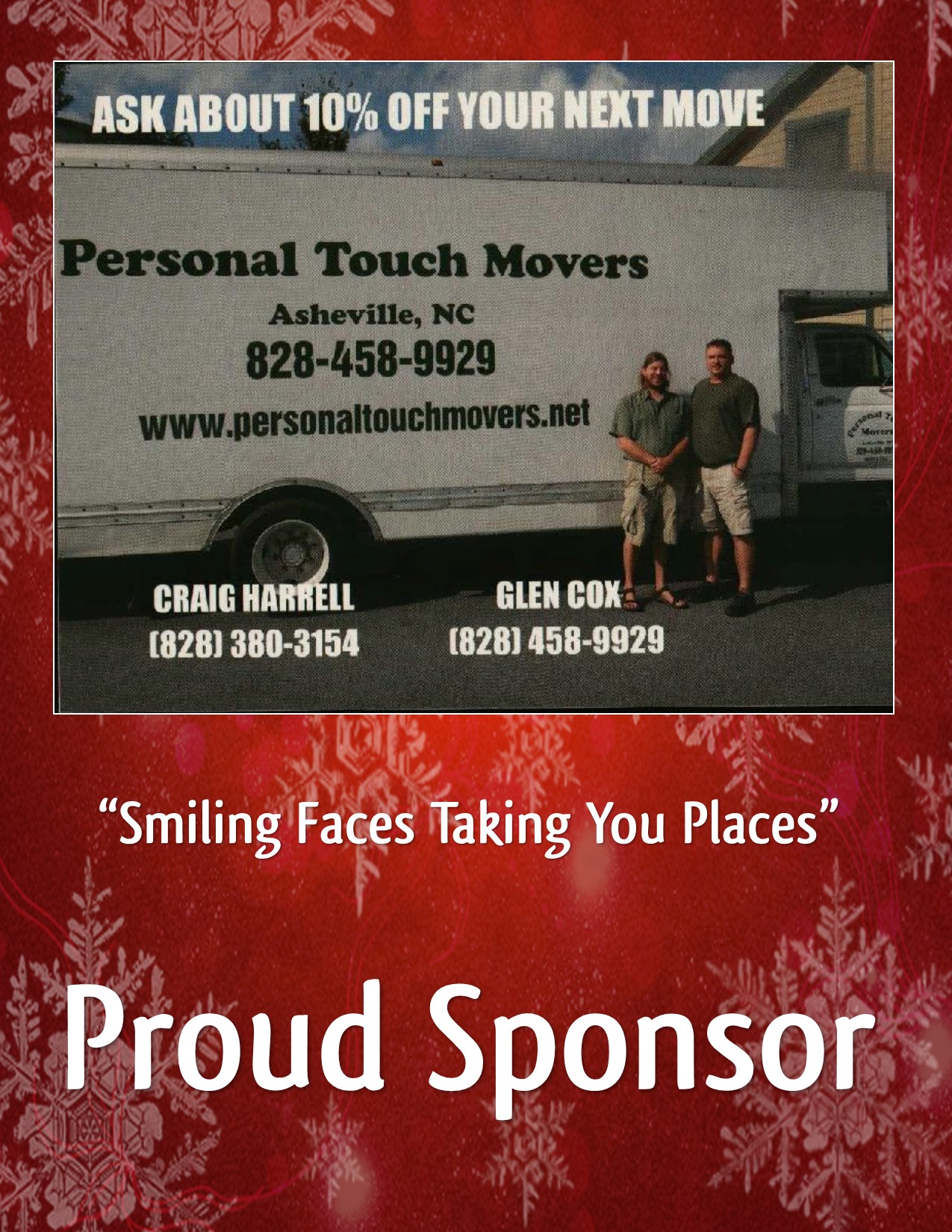 Personal Touch Movers love taking part in things that are a good cause! They are a local company that participates in the Go Local program. They are also the only Living Wage Certified moving company in Western NC and are also the only moving company in Asheville that won the Super Service Award in Asheville. They offer a quality service with smiling faces and fair prices.
About
Our team of movers has over 30 years of experience in moving residential and business customers.
We are first and foremost professionals, however, you will find that our "laid-back" attitude makes your moving experience as stress-free as possible.
We would like to be your choice for a local move in the Asheville area or points beyond throughout North Carolina.
<><><>
Get to know us...
Craig & Glen
About Craig...
A lifelong fan of the mountains, Craig Harrell has been making customers happy in North Carolina for nearly two decades, and has lived in the Asheville area since 1997. He takes pride in his work and brings you the expertise needed to ensure your move goes smoothly from start to finish.
When Craig is not busy working, he also enjoys building, sewing, dancing, and hiking with his Anatolian Shepherd, Dagny.
About Glen...
My name is Glen Cox. I was raised in Georgia and moved to North Carolina in 1998. I have been in the moving business for 15 years. I started as a mover, then became a driver, and later worked in management. I know moving can be stressful, and I do not mind going the "extra mile" to make you feel comfortable ...make your move less stressful. I enjoy working in the moving business and I am a "people person". I enjoy being able to help you with all of your relocation needs.
When I'm not working I enjoy spending time with my family, hunting, fishing, camping and restoring old cars. Thank you for your interest in our company. We look forward to hearing from you.
Who We Are

A bank worth more to you.
First Bank has a legacy of customer- and community-centric financial service dating back to 1935.

First Bank opened its first branch in Troy, N.C., to meet the needs of a small town that lost its bank at the beginning of the Great Depression. Back then, we were called Bank of Montgomery, and we were known for helping farmers and local businesses make "every penny count" throughout the '40s, '50s and '60s.

We changed our name to First Bank in 1985. Through the manufacturing, industrial and technology growth periods of the '80s, '90s and early 2000s, we continued to evolve to meet the needs of our customers.

Today, First Bank is a progressive community bank network and serves as the bank of choice for emerging businesses, families, and customers across North Carolina, South Carolina, and Virginia. Our focus is still on delivering value to you, our customers, as it has been across these last two centuries.

All along, we've strived to be the bank Worth More To You.
About HomeTrust Bank
Founded nearly a century ago, HomeTrust Bank has grown from a single location into a modern regional community bank backed by more than $2.64 billion in assets as of December 31st, 2014.
This capital strength allows us to invest in technology and resources that provide the banking conveniences you need no matter how you like to bank. We are dedicated to providing our customers with BETTER banking, from the products we offer to the consistently excellent, personal service we provide every day. It's our promise to our employees, our customers and our communities that "It's Just Better Here."
By keeping that promise to our customers, HomeTrust Bank has become the 5th largest community bank headquartered in North Carolina with 45 locations throughout Western North Carolina, Eastern Tennessee, Upstate South Carolina, and South Western Virginia. Our two commercial lending offices located in Raleigh, NC and Roanoke, VA offer convenient banking to businesses of all sizes.
HomeTrust Bank has a proud heritage of supporting the local communities in which we live and work. Within our primary focus on affordable housing, education and community health and wellness, we provide financial resources to support local non-profits that keep each of our communities vibrant and healthy. Our employees are also passionate volunteers in each of our local communities, donating thousands of hours annually to help others. We believe that when our communities are strong, we all benefit.
PNC offers a wide range of services for all our customers, from individuals and small businesses, to corporations and government entities. No matter how simple or complicated your needs, we're sure to have the products, knowledge and resources necessary for financial success.
Mindy Runion
I am proud to help sponsor this wonderful program. Being an Asheville native, being able to help those that live in the area I've grown up in is close to my heart. I have over 19 years experience in the mortgage & real estate industry. I have worked with all types of home financing over the years, and will work with you to see what best fits your needs. No matter if you are buying your first home, finding a vacation getaway, or looking for an investment property, I can help find the loan program that works best for you. Even if you are looking to renovate or refinance, let me help you achieve your goals in the most efficient way possible.
Think Title, LLC f/k/a AES Title Partners
As an Agent representing three of the marquee Title Insurance Companies in the country, Think Title has tremendous resources at it's disposal and is the premier customer-oriented and technology- driven title insurance company in North Carolina.

The Think Title staff has over fifty years of experience in the Real Estate, Mortgage and Title Insurance industry, from which their attorney partners and business partners benefit from directly.

In an effort to provide our clients with the best possible real estate experience THINK TITLE has a simple mandate; Superior Customer Service.

Visit us at www.ThinkTitle.com and learn more about Title Insurance and the value it provides each and every homeowner.
Because each transaction is unique, each of our clients is treated with the utmost attention and respect. Our mission is to assure each transaction is conducted with ease; free of worry and doubt. Through our unrivaled attention to detail, and unwavering commitment to our clients' best interests, it is our goal to continue to establish long-term relationships with each new transaction we facilitate.
We appreciate all of these wonderful sponsors and their support and we look forward to this year's FUNdraiser!