Here are some of the incredible activities in Asheville that make it a great place to visit and live! These are just a few of the many things that make Asheville amazing so if you ever want to know more, please don't hesitate to call Town and Mountain Realty (828) 232-2879! We would love to be your guide!
From: www.charlotteobserver.com
We asked Asheville native Lan Sluder for 10 fun activities that define his hometown. He is author of "Amazing Asheville: Guide to Asheville and the Beautiful North Carolina Mountains" (Equator, $19.95).
Sip coffee in the double-decker London bus. "It's on Biltmore Avenue, permanently parked in a lot across the street from the Aloft Hotel. Go in, buy coffee and a muffin on the lower level; there are seats there - or go up to the second level. This is one of 10 or 12 coffeehouses in the area, but it's unusual to see."
Tube down the French Broad River and stop at Bywater for refreshments. "Bring your own tube or rent one from Asheville Adventure Rentals (www.ashevilleadventurerentals.com). Bywater ( www.bywaterbar.com) is near UNC Asheville right along the French Broad on Riverside Drive. It has bar food - burgers and that sort of stuff - and there are picnic tables outside."
Try the Battery Park Book Exchange and Champagne Bar. "Have a glass, buy or exchange used books. It's in the Grove Park Arcade. Malaprop's ( www.malaprops.com) is best for new books; try this place for used ones. BPECB ( www.batteryparkbookexchange.com) allows pets inside, and has a slogan along the lines of 'Dogs and well-behaved owners are allowed.' "
Catch the drumming circle. "Every Friday night in Pritchard Park, on Patton Avenue about three blocks from Pack Square. Crowds hear the noise and people gather around to listen for free ( http://bit.ly/1pt60Or). There could be 15 drummers, there could be 30 or more."
Take an unusual tour. "The LaZoom tour ( www.lazoomtours.com) is like a comedy club on wheels. There are two booze tours ( www.ashevillebrewerytours.com; www.ashevillebrewscruise.com) where you go to different breweries and have a beer at each. For the Amazing Pubcycle tour ( www.amazingpubcycle.com), you get on a specially-made super-large bike that can hold 13 people. Everyone peddles and you go to different bars, brewpubs and craft breweries."
Go to Moogfest. " Moogfest ( www.moogfest.com), April 23-27 this year, celebrates Robert Moog, who invented the synthesizer and, essentially, electronic music. He spent his later years at UNC Asheville and is buried in Asheville."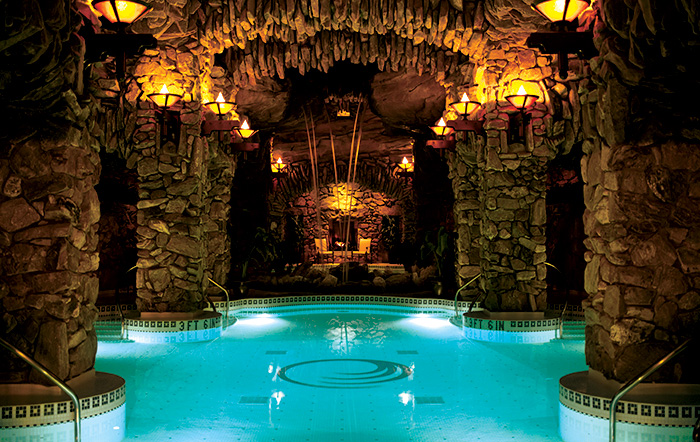 See where Fitzgerald stayed. "The Grove Park Inn ( www.groveparkinn.com) is now owned by Omni, which is making improvements and adding restaurants. You can go there and look at the suite where famed Roaring '20s author F. Scott Fitzgerald lived for a couple summers in the 1930s when he was trying to kick his drinking habit. The story is, he'd drink a case of beer a day because he didn't consider it alcohol."
Sample the beer district. "One of the biggest things in the last 15 years is this Beer City thing: It now has about 24 or 25 craft minibreweries in and around town - more than in Atlanta. The area called South Slope, south of Patton Avenue, between Biltmore and Ashland Avenues, has become kind of the beer district. There are six or eight there, and the whole area is coming alive: Not only with breweries, but with new restaurants. An interesting place is Ben's Tune Up ( www.benstuneup.com), which used to be a car fix-up place. There's an open air patio - and it serves Japanese fusion Southern food."
Check out the River Arts District. "It's south of Patton Avenue and used to be an industrial area; now its a district where you can buy things at artists' studios (www.riverartsdistrict.com). Check out this great video about the River Arts District here! Just walk in and see what the artists are doing. The district has helped make Asheville a center for crafts and fine art. Wedge Brewering (www.wedgebrewing.com) is there, and New Belgium, a national brewery, is opening there in 2015. There are lots of pizza places and new restaurants. Bull & Beggar (http://www.thebullandbeggar.com/) is one of many 'New Southern' restaurants - locovore produce, grass-fed beef, etc."
Hear the tunes at Shindig on the Green. "It's held most Saturday nights in summer in Pack Square Park ( www.folkheritage.org). It's free and live mountain music. Related to that is the Mountain Dancing Festival ( http://bit.ly/1fHiw8I), the oldest event of its kind in the United States. It starts 'long about sundown and is held the first weekend in August." John Bordsen