Posted in Real Gardens by rlentz | From: www.homesteadgardens.com
The darkest of winter is my favorite time to pore through photos of lush gardens I've visited and find inspiration for changes to my own garden. So here are my most inspiring images from the gardens of Asheville, North Carolina, which I visited last May.
The first four photos are of the most gorgeous little inn I've ever seen, just blocks from downtown. The innkeepers told me they maintain this small but plant-packed garden themselves, which I can't imagine having time to do PLUS run a business. My group (75 garden writers from across the U.S.) couldn't get enough of their creation. There are more photos on the inn's website.
An abundance of conifers means this garden looks great every day of the year.
Next, a large private garden miles from the city, where the orange blooms of deciduous native azaleas stand out in a sea of green.
One tip I took away from this garden was to plant climbing hydrangea in a sunny spot and then let it do its thing. Another is to plant bamboo (which I've never grown) and to use its aggressiveness as an excuse to buy a fabulous blue pot to put it in.
Another idea to find a small but up-close space to create an awesome collection of groundcovers, like this one along a walkway. Another is to combine a sun-loving Sedum, like the chartreuse 'Angelina' below, with a plant I'd usually confine to a shade garden - Heuchera. What a great color combo!
From the same garden, the succulent-filled metal planter below is something I replicated (sorta) as soon as I got home. It's a great way to avoid the extra watering required by growing plants in containers (where they dry out faster than in the ground). These plants probably don't need any supplemental watering at all.
Below is the curbside garden in front of a bank in downtown Asheville that I stopped to admire. This professionally designed gem is packed with smart plant choices and design details we can try at home. Note the tough but gorgeous plants like Skypencil hollies, Osmanthus, spireas, junipers and daylilies. And great boulders, of course.
Another attraction in downtown Asheville are the many garden-type murals adorning so many otherwise ugly blank walls. Paint and other non-plant materials can be cheap, fast and charming in a garden.
Finally, I took away one idea from the vastness of the Biltmore Estate gardens, and that's the use of big, dramatic tropical plants, like the bananas and cannas below. Even in my tiny new garden I'll be growing a few of these guys next year.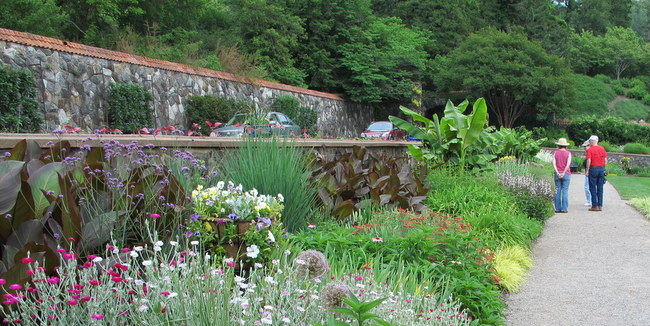 A lesson I WISH I could use in my own garden is to use views to their best advantage. So, if my garden overlooked the Blue Ridge Mountains I'd create an opening in the trees just like this one, to maximize that view.