News
News


6/30/2011 - Looking Up: Cool mountain properties lure lowlanders seeking summer homes, getaways
by Jim Parker - The Post and Courier (Charleston, SC)
THE MOUNTAINS OF WNC WELCOMES EVERYONE FROM EVERYWHERE! Vacationers looking for a peaceful mountain respite find themselves all over our area, enjoying the outdoors and soaking in the sun and history of Western North Carolina!
An historic marker in Flat Rock, N.C., pays tribute to Christopher Memminger, the first Confederate Secretary of the Treasury.
What seems out of place is that Memminger, a 19th century statesman, grew up and lived most of his life in Charleston. Memminger Auditorium is named for him.
Yet like many Lowcountry residents, he traveled to the North Carolina mountains to escape the heat and diseases that seemed to appear in summer. Memminger owned a home in Henderson County, and that's where he first hunkered down after the Civil War.
"We have always been a refuge for coastal people," says Gwen T. Fowler, who owns Gwen Fowler Real Estate in Oconee County-based West Union and markets her website under www.coolmountainescapes.com. Charlestonians effectively settled the area. "They didn't know mosquitoes caused malaria," only that the symptoms went away when leaving the Lowcountry in the warmer weather months, she says.
Today buyers from the Charleston area and elsewhere are attracted by low prices, such as a lakefront condo on Lake Keowee for $80,000.
"We don't call them deals, we don't have steals, we call them true value," says Fowler, who has ties to the Charleston area -- she spent a harrowing night in a house on Johns Island when Hurricane Hugo blew through close to 22 years ago.
The mountain appeal? "Cooler temperatures, babbling brooks," says Daryl Hardin, a Realtor with Keller Williams in the North Carolina town of Polk.
"You leave Charleston and it's 98 (degrees) and get up to 3,000 (feet) elevation at Boone and Blowing Rock, and it's 78," says Nate Saunders of Premier Land Liquidators in Davidson.
It's no question the highlands of North and South Carolina, Georgia and Tennessee have been a home away from home for residents of low lying areas across the Southeast for decades. That includes Charlotte and Atlanta 1-2 hours away as well as Charleston, Savannah and Wilmington, N.C., which are 3-6 hour drives.
According to Realtors in the region, the mountain properties have felt the national housing showdown. But it hasn't resulted in a big drop-off in sales or prices.
"The market's gotten better but it is still on the moderate side," says Tom Perry, broker with Steve Owen and Associates in Brevard, N.C., near the Pisgah National Forest.
He is listing a 3,500-square-foot lakeside home for $699,000 in Connestee Falls off U.S. Highway 276 South, known as the Greenville Highway. The neighborhood has four lakes, hiking trails, golf course, tennis courts, clubhouse, fitness center and bocce courts.
"I think a lot of people are holding back a little bit waiting for the stock market to rebound," Perry says.
A few properties weren't so lucky, some winding up being offered at auction.
Saunders has 40 home sites that are up for sale at auction today in a gated neighborhood with kayaking and canoeing on the New River in Ashe County. Lot prices start as low as $9,900.
"You can get a beautiful piece of property for a fraction of the cost," he says.
Lots of choices
Across the mountain region, buyers can choose from gated communities, properties with large acreages of land, log cabin neighborhoods and vacation rental communities.
They stretch 50 miles or more from the Sassafras Mountain and Caesar's Head area in South Carolina; Cashiers and Highlands in western North Carolina; Flat Rock, Tryon, Saluda and Hendersonville off Interstate 26, Chimney Rock-Lake Lure further east; the metro Asheville area and Biltmore House at the Interstate 40 intersection; Black Mountain east of Asheville and Boone further north.
"The beauty of where we are in the isothermal region," Hardin says. "We are a little climatic zone, winters not typically as bad, summers not as hot." Three wineries have opened in the past few years because of the temperate climate, he says.
While for-sale properties are popular, not every mountain enthusiast is in the market to buy.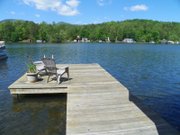 Walter Carr, who runs Carr Properties in North Charleston, also co-owns the Shamrock House -- a former cedar log residence on a wooded road that he leases for vacations. Built in 1925, the house is in Sunset just south of the state line near Pickens and lakes Jocassee and Keowee.
Carr says the house has bits of lore. "Nancy" the ghost supposedly shows up: she's a young woman who died decades ago from drinking laudanum. Lyndon Johnson stayed there when running in the Democratic primary for president against John F. Kennedy.
Rents are $1,137 a week. The property on 10 acres is also for sale for $625,000.
Mountain rentals aren't as active as beachfront properties, but "there is a market," he says.
Not far away in Cashiers, N.C., Larry and Sarah Madden rent two-bedroom vacation homes in an enclave called Pebble Creek Village. "The houses are very well kept," he says.
The dwellings, which have a kitchen, dining and living areas, and a loft, can sleep up to eight people. "We have several Charleston guests each year," he says.
They lease from $160 a night for two people, $175 for three to five guests and $190 for a half-dozen or more people.
"That's the majority; families who come to get away," he says.
Golden years
A growing demographic involves retirees relocating to the mountains.
"That's one of the things that has jumped the most," Hardin says.
Some buyers purchase a lot and then hold onto it until they are ready to move.
Alan Moore, who lives in Shadowmoss in Charleston, bought property in the Alpine Mountain neighborhood in Swannanoa, N.C., near Black Mountain, as a site for second home. He started his search 15 years ago. "I looked all over the area, there are a lot of beautiful properties," he says.
Moore is listing the 1.88 acre property for $59,900 through Greybeard Real Estate. He is eying another property in Alpine Mountain to buy. "I'm selling this to get a little cash flow," he says. He plans to go up there over July 4th weekend staying at a KOA campground in a travel trailer.
"I plan on building a home," he says. "These people talk to you like they've known you all your life, real friendly."
Mountain lakes, with deep cool water and breathtaking views, are much touted spots to buy real estate. Word is spreading. Hardin says he was flying back from the northern lake region of Italy when he heard two passengers talking about a pristine lake in North Carolina where they filmed a movie. "Dirty Dancing or Last of the Mohicans?" he chimed in; both were shot in the Lake Lure-Chimney Rock area.
A popular mountain style is the traditional log cabin.
"We develop rural mountain communities," says Richard Williams, head of Mountain Creek Realty, "What we have available are log cabin shells." The 1,288-1,328 square foot houses in north central Rutherford County are $85,000-$90,000 including land costs.
The village, called Hearth Stone Ri dge, will have 208 properties on 472 acres. Land prices are $7,900 for 1.5 acres to $169,000 for an eight-acre parcel. Many buyers custom-build log cabins or houses that are as large as 5,000 square feet and run from $160,000 to close to $500,000.
"It's primarily a second home market," he says, with owners from New Jersey, New York, Pennsylvania, the Carolinas, Georgia and Florida. "There's quite a bit from the Charleston area," he says.
Once in awhile, mountain properties are marketed through Charleston area brokerages.
Aviles Real Estate in Charleston is offering a two bedroom, two bath home with sunroom and garage for $145,900 at 241 Hidden Hill in Tryon, N.C. Listing agent Robbin Martin notes the house, with a large family room and bath in the basement, is just three and a half hours from Charleston.
"The best of both worlds, the beach and the mountains," she says.