From: www.visitnc.com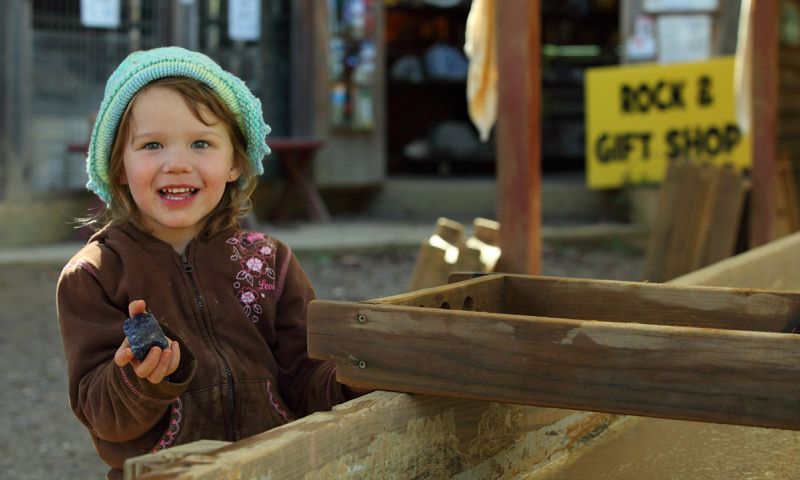 Go gem mining in the mountainsWith zoos, zip lines, gem mines, museums, orchards, and much more, it's easy to find something fun for every member of the family in the North Carolina mountains.
Children 2 - 12
Cherokee Ruby and Sapphire Mine Franklin Unlike many gem mines that welcome eager rock hounds to Franklin and western North Carolina, buckets at the Cherokee Ruby and Sapphire Mine have only naturally occurring North Carolina gemstones. Natural creek water runs through the flume line, and gems are not brought in from other areas to "enrich" the soil. Rubies, sapphires, garnets and moonstones are among "gemstones in the rough" you can find here. Pack a picnic lunch, drive your car right up to the flume and cross your fingers. You just might go home with a ruby.
The Children's Playhouse Boone The Playhouse is a great place to escape, especially on a rainy day. A pretend grocery store and kitchen, puppet theater, dollhouse neighborhood and train tables foster imaginative play. An arts and crafts studio, science experiments and sand and water tables encourage kids to creatively interact and learn.
Hickory Dickory Dock Hickory From the mini bumper cars to the 50-some arcade games, everything at this entertainment center is made especially for elementary-aged kids. The laser tag area is filled with glow-in-the-dark mazes. Kids also love the nine-hole mini golf course, three-story indoor playground, bumper cars and much more.
The Orchard at Altapass Spruce Pine With a goal of preserving the history, heritage and culture of the Blue Ridge Mountains, the Orchard at Altapass grows apples, raises and releases butterflies, has live mountain music and dancing, and offers guided storytelling walks and nature walks. You can also breathe the mountain air and enjoy beautiful scenery during a 45-minute storytelling hayride focusing on the history of this area of the mountains.
Tweetsie Railroad Blowing Rock For more than five decades, families have been coming to Tweetsie Railroad for a Wild West Adventure on a train pulled by a coal-fired steam locomotive. It's a trip back in time where cowboys, train robbers and renegades like to stir up trouble. You can also stroll down a Western Main Street, pan for gold, head for the gem mine, and show off your skills in the arcade and shooting gallery.
Teens 13 - 18
Chimney Rock Park Chimney Rock Trails of varying difficulty wind around this 500 million-year-old rock. For example, the 20-minute Skyline Trail takes you to the highest peak in the park, the 2,480-foot Exclamation Point. If you don't want to hike, just take the elevator to the top and enjoy views of the Blue Ridge Mountains and, depending on the season, gorgeous fall color.
Ghost Hunters of Asheville Asheville If you're up for a spooky adventure, join other paranormal enthusiasts during Asheville's only interactive ghost tour. Ghost hunters are given meters and dowsing rods to use during the nightly downtown tour. Other tours include haunted homes and inns and a graveyard tour.
Navitat Canopy Adventures Barnardsville This exhilarating and educational three-hour tour, located 20 minutes from Asheville, lets thrill-seekers ages 10 and up soar through the trees via zip lines, sky bridges and rappels. Adventurers will also learn more about native plants and animals, environmental protection and sustainability.
Rock Dimensions Climbing Guides Boone Gear up and tackle a 40-foot climbing tower. Make it to the top, and you'll not only earn bragging rights but also beautiful views of downtown Boone. Once you've mastered the tower, try one of the three- to four-hour group rock climbing excursions.
By:Malia Kline