2020 is coming to an end and to put it lightly- its been a doozy. At Town and Mountain Realty we support shopping local all year long, but this year more than ever it is especially important. Asheville was founded in art and continues to thrive because of all the vibrant, creatives that live here. If you are able to purchase gifts this year, lets put our money where it counts!
Local shop owners and artists take great thought and care choosing the items that they offer. These items are then gifted to those you love with even more thought and care. Supporting each other is the glue that holds our community together, during a time that we are a bit more separated.
Here is a list of gift ideas hand chosen by the Town and Mountain team. Many of these places offer curbside pickup, extended holiday sales or even local delivery. If we left anyone out you'd like us to highlight, let us know and we'll add them to this list! Be merry, be festive, SHOP LOCAL and above all, be safe!
A little something for everyone...
Firestorm Coop - Support your local bookstore this year! Books are a great way to escape without leaving the couch. You can find something for everyone from age 1-101!
Asheville Hemp Farms - This CBD haven has you set from edibles to topicals to tinctures and extracts. From health and wellness to bath and body!
Garden Party - Garden Party has many gifts that are meant to aid your body and mind in one way or another, or products that simply bring a smile to your face! Sounds like exactly what many of us need this year!
Zadies Market - We love a gift that not only supports local, but is useful and functional. How about a gift certificate for locally sourced and grown food, flower, bread and more delivered right to your door.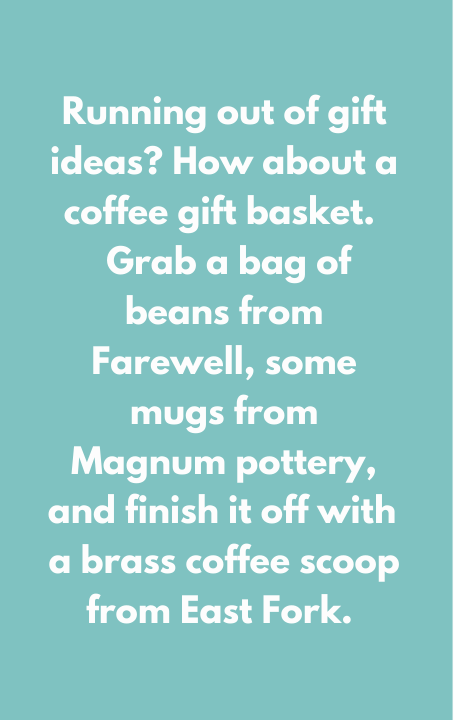 Playdate - Beautifully curated selection of responsibly sourced wooden toys and sustainable clothing for your wee ones.
Dancing Bear Toys -This shop is an Asheville staple since 1989. Great for all the young'ns in your life- don't forget to get it gift wrapped- their wrapping paper is a gift in itself!
Bhramari Brewing - Not only is this the most creative and tasty and tantalizing local beer, they also get local artists to design their labels, and they are beautiful- no need for gift wrap!
Crocodile Wine - Pick up a bottle of natural wine- try something new! They have yet to disappoint!
HoneyCreek Pottery - So many amazing things for sale by this local potter, who also offers classes!
Village Potters Studio - One of the best gifts for someone seeking a change of pace and a creative outlet- a beginner's pottery class.
Curve Theory - Reggie is an amazing photographer and sheds the light on the beauty that is Asheville. He offers prints, cards etc. on his website - and be sure to check out his "miniatures" collection of photos!
Altamont Vintage - Support local, while supporting the earth by buying vintage. Co-owned by one of our agents' family.
Flora - Plants galore & strong coffee!? What more could you ask for! This place is Heaven on Earth.
Whist - Right down the street from Flora, The coolest stuff for weirdest times.

Pastimes Comics & Games - Find great gifts for all your geekiest friends and family.

Crucible Glassworks - Providing Hot Glass at Cool prices.
Fifth Season Gardening - Not only do they have a great selection of lovingly cared for houseplants, they also have a great bulk tea selection. Staff is super knowledgeable and they offer cool classes on wine making and home-brewing.
Ware - Ware has a great selection of gifts. From Cookbooks and kitchen essentials, to stylish countertop compost pails, to a razor and soap. All selected for utility and function as well as beauty.
LOFT - We love their eclectic collection of gifts - you can find something for everyone on your list and be thoroughly entertained while browsing this colorful, fun downtown shop.
PLUMP Jewelry - Handmade earrings by a local Mama. Visit her website, or another local fave, Minx, to find her work.
Asheville Bee Charmer - Go for the chai infused honey, cookbooks and wellness sprays.
Moonlight Makers - Very soft and funny shirts and more. (Shirts & Giggles)
Elementality - Some of the most unique, eye catching jewelry. There's a wide range from dainty and small to big and bold. Their selection offers so many different gems and stones.
Poppy Handcrafted Popcorn - We love giving food as a gift, and often make homemade, but Poppy Handcrafted Popcorn is the jam. So many flavors, and you can mix and match. And you can get free samples!
Pottery at Mangum Pottery - Their creative process is guided by the clay itself, through years of studying the nature of the materials.
Luxe House Photographic - This is a local photographer who does amazing portraits. A great gift idea is a family/individual portrait.
Make a donation in someone's name: (There are SO MANY wonderful non-profits, but here are a few near and dear to our Agents' hearts)